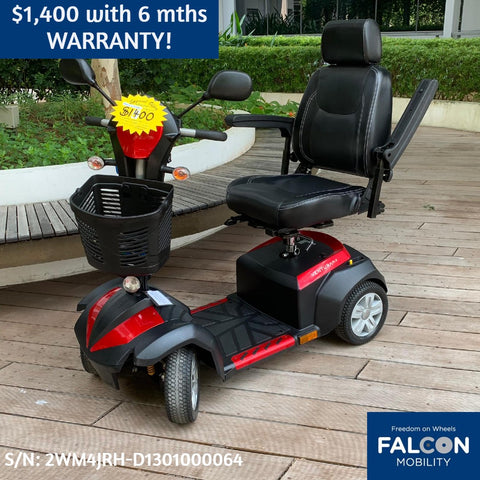 Refurbished Ventura 4-Wheel Large Mobility Scooter - $1400
If you have a highly active and independent lifestyle and need to cruise around for the whole day, the Ventura DLX mobility scooter is the right solution for you!
With its 32 km range (45 km with optional 50AH battery upgrade), the Ventura DLX scooter allows continuous use for the whole day without the need to recharge or change spare batteries. Its rugged design and high ground clearance enable it to handle obstacles such as kerbs, road humps!
Highly Recommended for:
Mobility scooters are most popular among the elderly who are able to walk, but not over long distances. The scooter extends their travelling range, allowing them to maintain their social life and perform routine tasks such as grocery shopping.
The Ventura DLX 4 is great for bigger-sized users who need the extra power, range and comfort.
Transport Suitability Rating: Taxi/Car—Not Possible, unless with ramps.
Mobility Scooter Features
350 lb (158 kg) weight capacity

All seats have four height adjustments, from 20" to 23".
Padded, flip up armrests allow for easy transfer and user

 

access.

Armrests are also removable and height and width

 

adjustable.

All units include both red and blue interchangeable colour

 

panels

Adjustable angle, delta tiller allows the user to place the

 

controls in the most comfortable position.

Ergonomic controls make it easier for those with limited

 

strength or dexterity to operate the scooter.

Anti-tip wheels for greater safety.
Large plastic front basket with flip-down handle.
Comes with 18" Captain's Seat for maximum comfort and

 

support.

Captain's Seats recline, swivel, and feature a fold-down

 

backrest and adjustable height headrest.

Seat can be moved forward or backward using the auto-

style seat glides.

Full lighting package includes headlight, front and rear turn

 

signals and rear parking lights.

Rear view mirrors.
The Ventura DLX 4-Wheel (33 AH) Mobility Scooter used to retail at $2,800.
Condition: In excellent condition which is almost as good as new! Tyres almost brand new. Installed with new batteries.
Reason for Sale: Demo set that is no longer needed as it is replaced with new model.
  Specifications:
| | |
| --- | --- |
| Brand | Drive Medical |
| Maximum Range | 32 km for 36 AH / 45 km for 50 AH |
| Base Weight (Without Battery) | 45 kg |
| Battery Weight | 23 kg for 36 AH / 29 kg for 50 AH |
| Seat Weight | 18 kg |
| Total Weight | 86 kg for 36 AH / 92 kg for 50 AH |
| Battery | 36 AH / 12V x 2 or 50AAH / 12V x 2 |
| Charger | 4A |
| Front Wheel | 10" x 3" Flat-Free |
| Rear Wheel | 10" x 3" Flat-Free |
| Max Speed | 6.4 km/h |
| Colour | Red |
| Warranty | 6 months (Carry-in) on motor, electronics & batteries.Transportation not included. |
---
We Also Recommend